How Digital Strategy and Management Games can Facilitate the Practice of Dynamic Decision-Making
Czauderna, André und Budke, Alexandra (2020): How Digital Strategy and Management Games Can Facilitate the Practice of Dynamic Decision-Making. In: Education Sciences, 10 (4), pp.1-24. https://www.mdpi.com/2227-7102/10/4/99/pdf
Abstract:
This paper examines how digital strategy and management games that have been initially designed for entertainment can facilitate the practice of dynamic decision-making. Based on a comparative qualitative analysis of 17 games—organized into categories derived from a conceptual model of decision-making design—this article illustrates two ways in which these games may be useful in supporting the learning of dynamic decision-making in educational practice: (1) Players must take over the role of a decider and solve situations in which players must pursue different conflicting goals by making a continuous series of decisions on a variety of actions and measures; (2) three of the features of the games are considered to structure players' practice of decision-making and foster processes of learning through the curation of possible decisions, the offering of lucid feedback and the modification of time. This article also highlights the games' shortcomings, from an educational perspective, as players' decisions are restricted by the numbers of choices they can make within the game, and certain choices are rewarded more than others. An educational application of the games must, therefore, entail a critical reflection of players' limited choices inside a necessarily biased system.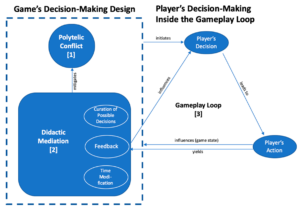 Playing with Complex Systems? The Potential to Gain Geographical System Competence through Digital Gaming
Lux, Joelle-Denise und Budke, Alexandra (2020): Playing with Complex Systems? The Potential to Gain Geographical System Competence through Digital Gaming. In: Education Sciences, 10(5), 130. https://www.mdpi.com/2227-7102/10/5/130/pdf
Abstract:
The current socio-ecological challenges and phenomena that are major topics of geography education, like climate change and migration, are highly complex. Maturity in these contexts requires a networked way of thinking, and a systemic competence that is difficult to develop in geography classes alone. Digital games that simulate complex systems which include the pressing issues of today's challenges may be a useful supplement to foster systems thinking. In this study, we develop a framework to assess the complexity of in-game systems. A subsequent analysis of a selection of current commercial strategy and simulation games shows how system complexity is designed differently in the various games. Based on these results, we make recommendations for the selection and use of different games in formal and informal learning contexts.
Game Designer als Akteure der politischen Bildung
Czauderna, André, und Alexandra Budke. 2021. "Game Designer als Akteure der politischen Bildung". MedienPädagogik: Zeitschrift für Theorie und Praxis der Medienbildung 38 (Aneignung politischer Information): 94-116. https://doi.org/10.21240/mpaed/38/2021.01.25.X.
Abstract
Viele digitale Spiele enthalten – auch wenn sie primär für Unterhaltungszwecke konzipiert wurden – Anknüpfungspunkte für die politische Bildung. So erlauben sie z. B. ihren Spielerinnen und Spielern, in die Rolle politischer Entscheidungsträger zu schlüpfen und sich mit Themen wie Stadtentwicklung, Migration, Ressourcenkonflikte oder Klimawandel zu beschäftigen, welche u. a. für die politische Bildung im Geographieunterricht eine wichtige Rolle spielen. Es ist dementsprechend konsequent, ihre Designerinnen und Designer nicht nur als Akteurinnen und Akteure der Kulturindustrie, sondern auch als solche der politischen Bildung anzusehen. Der vorliegende Beitrag rekonstruiert aus medienpädagogischer und geographiedidaktischer Perspektive mithilfe einer qualitativen Inhaltsanalyse von neun leitfadengestützten Interviews mit Game Designerinnen und Designern von Unterhaltungsspielen, wie diese ihre Rolle als Akteurinnen und Akteure der politischen Bildung wahrnehmen. Insbesondere wird herausgearbeitet, dass ihre Haltung zum Design politischer Entscheidungssituationen weitgehend an den Massstäben des Beutelsbacher Konsenses – d. h. dem Überwältigungsverbot, dem Kontroversitätsgebot und der Interessenorientierung – gemessen werden kann. Gleichwohl muss der Einsatz kommerzieller Spiele in der politischen Bildung in jedem Einzelfall kritisch reflektiert und pädagogisch begleitet werden. Da sich ihre Designerinnen und Designer in ihrer Rolle als Akteurinnen und Akteure der Kulturindustrie – die keinen Bildungsauftrag, aber Kunstfreiheit umfasst – in erster Linie der Unterhaltung ihrer Zielgruppe verpflichtet fühlen müssen, können ihre Produkte nicht genauso streng nach didaktischen Kriterien bewertet werden wie speziell für die politische Bildung erstellte Materialien. Eine kritische Reflexion der Spiele in der politischen Bildung sollte sich u. a. auch dem von den meisten Designerinnen und Designern selbst gesehenen «Demokratiedefizit» der Spiele, das sich z. B. in der Vernachlässigung der intersubjektiven Aushandlung von Entscheidungen darstellt, widmen.